· Phone: 405-354-5233 · Fax: 405-354-2544
· Mon-Fri: 9a.m.-7p.m. Sat: 9a.m.-2p.m.
We're a modern pharmacy with Community values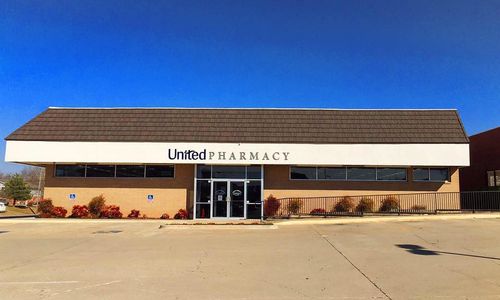 We are an independent family owned pharmacy that has been serving the community of Yukon and the surrounding areas since 1972. Our pharmacy staff have a combined 37 years of experience and our friendly staff will treat you like family. At United Pharmacy of Yukon, we believe that being a local pharmacy means providing Healthcare services to our patients that are customized to meet their needs.
What Our Patients Are Saying
"This is the friendliest and most helpful pharmacy around! They are very attentive to your needs and readily available to answer your questions."
- Michelle W.
"Great family owned pharmacy. These people have knowledge to share. I love that they remember you name."
- Casey C.
"They are the best people! Professional and sweet, I may change over to them in the future. I needed something and they were so helpful and just go above and beyond!"
- Lucky G.
Download Our Free Mobile App

Refill your medications 24/7 on-the-go or when you're at home.

Safely store your information and manage your list of prescriptions.

Set reminders to take your meds or when it's time to refill.
Subscribe to our newsletter for seasonal promotions, health news and savings